---
Hover your mouse over the pictures for a description.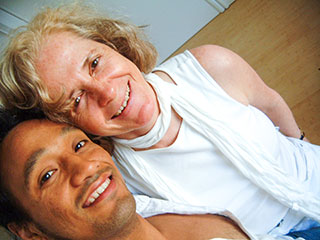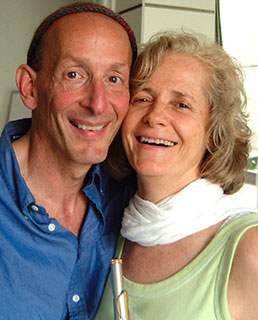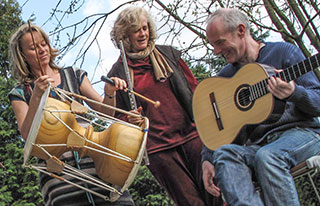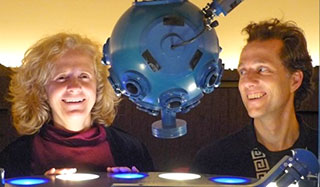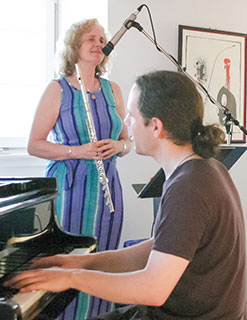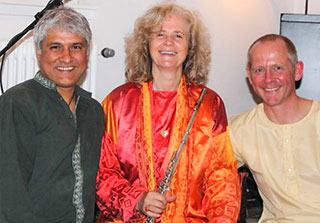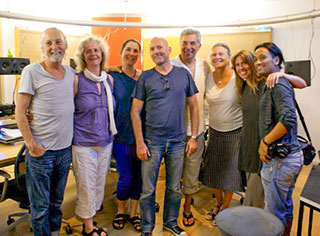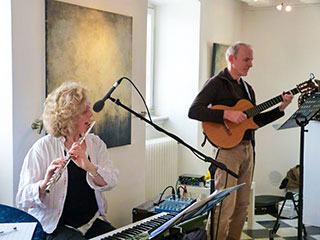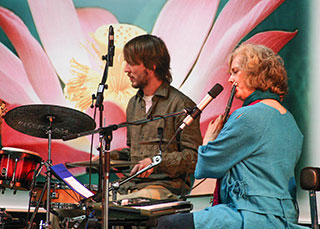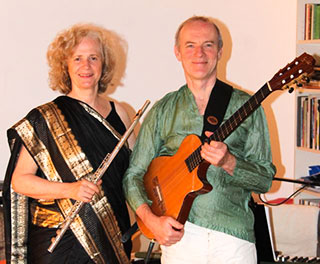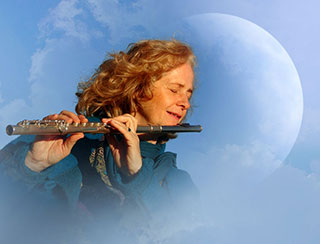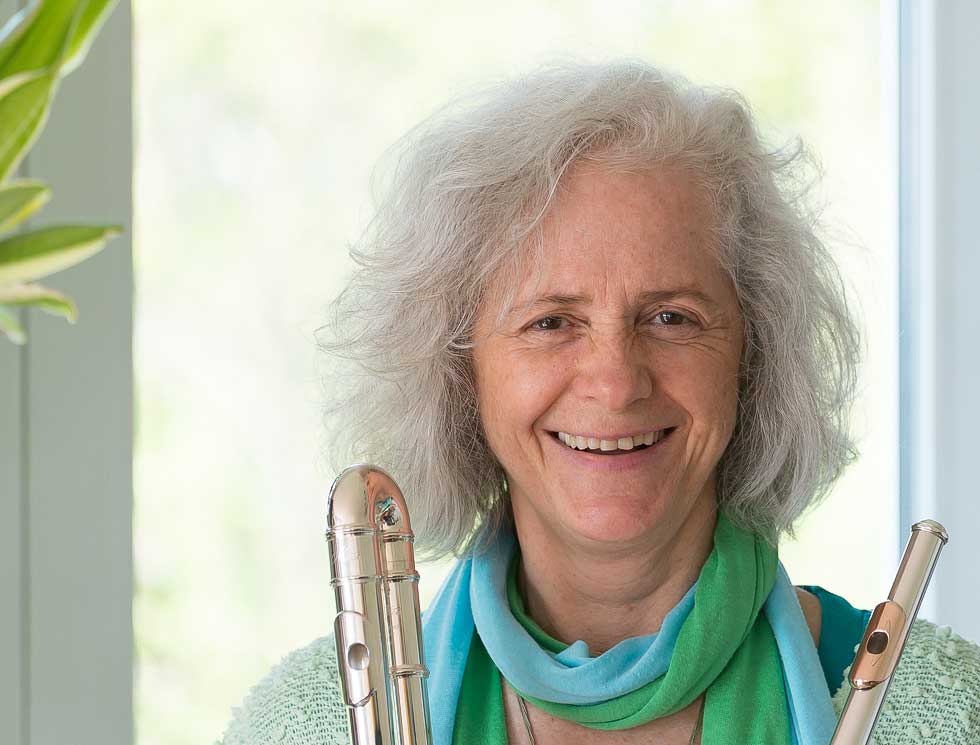 ---
Nandin (rhymes with Kathleen) was born in Canada. As a youngster, she sang, and played the piano and guitar until at one point, she became infatuated with the flute. She then studied with world famous flutists and followed a career as an orchestral musician and flute teacher. This lasted until she heard meditative music calling her. She then started travelling, playing with musicians from all over the world, improvising, composing and creating her own musical style.
In her own words:
As a child, music was something magical for me. Our piano held hidden secrets that I understood from the adults around me only a music wizard was qualified to impart to me. I started to take piano lessons, and since the teacher told me to play 15 minutes a day, I played only 15 minutes, thinking that more was not okay! I hung around the piano wishing I could play it though.
I had my first 'spiritual' experience as a child while walking around in the snow one afternoon, singing, which brought me to such a state of bliss that tears overflowed.
Later on I played recorder, and then guitar until one day, when I was 16, I heard someone playing the flute, and suddenly I had to have one. I mean, I really had to have one! I saved up by working at the local summer fair (the Calgary Stampede). When the flute arrived, I was entranced. With it, I loved improvising music with my friends. I continued to become more and more involved until I ended up becoming a professionally trained musician. This involved studying with famous flutists, practicing for hours daily, getting a music degree in composition, winning competitions, playing in a professional orchestra and various ensembles and finally teaching at the local University and Music College.
Around the time I started playing the flute, I also started doing yoga, which was helpful, especially since I reached that state of deep peace following the exercises when you lie down and relax. Aha – I realized, this is the meaning of 'the peace that passeth understanding'.
After supposing that I would live happily ever after as a flute teacher in Calgary, things changed radically when I met my first spiritual teacher, Osho, and rediscovered my original passion for that divine bliss I had experienced as a child. At this point, I felt compelled to leave my home and strike off into the unknown. I started off in Montreal, passed through Italy on my way to India, and finally ended up following my heart's desire to busk. I was quite successful with this, and due to how amazingly inexpensive it is to live in India, was able to spend a fair amount of time there.. This was a fascinating time – and I glimpsed that divine bliss and peace over and over again in many guises, including in the often incredible music I played with the other musicians who came from all over the world! (Deva Premal and Miten, Prem Joshua, Karunesh, Sambodhi Prem, Chinmaya Dunster, Milarepa, and Manish Vyas just to name of few.)
And so started my CD career with the musicians I met there. ('Feng Shui' Parts One and Two, 'Windsongs', 'Pure Delight', 'Tai Chi', 'The Art of the Wise Women', 'On a Day Like This', 'Flowers' and 'From Here to Here' come from this time).
After some years, I suddenly felt moved to give up my busking career and play meditative music. This is when I met my next spiritual teacher, Samarpan, which lead to the end of my continual outward seeking after this divine bliss and peace. Through him, I realized that the name that Osho had given me ten years earlier, Vimal Nandin, (which means 'Pure Delight' in Sanskrit) is actually a reflection of my real self. I discovered who I really am, (vastness, deep peace, silence, bliss) and got to make a lot of music too! I started to play keyboards and sing again, and experienced an exquisitely beautiful meeting with the divine through music.
Humorously, I am often so touched as I sing or play (especially while improvising), that tears come, (like when I was a kid singing in the snow) which in turn makes my nose run – which requires sniffing, or blowing my nose or some other unmusical sort of thing. (I mean, I can't just stop playing and say to the public 'Hold it while I blow my nose'. I have managed to keep the sniffing off the recordings however.)
The CDs 'Divine Landscapes', 'Secrets, Tea for an Empty Cup', 'The Universe Inside', 'Touched by the Divine', 'Atmospheres in Music', 'Blessings', 'Yes Is the Answer' and 'Out of the Moment' came out of this time. I also recorded with Pari and Satyaa in beautiful Corfu on their mantra CDs and DVD in this phase of my life.
The music on all of these Albums helps to support a meditative and relaxing atmosphere by bringing the listener to peace simply by listening, or in some cases, by singing along.
Meditative music continues to be the moving force in my life – and it is my great delight to frequently play with other meditative musicians.
---
---
My presence on Social Media
Join my mailing list here